SMRC Art Auction Website is Now Live!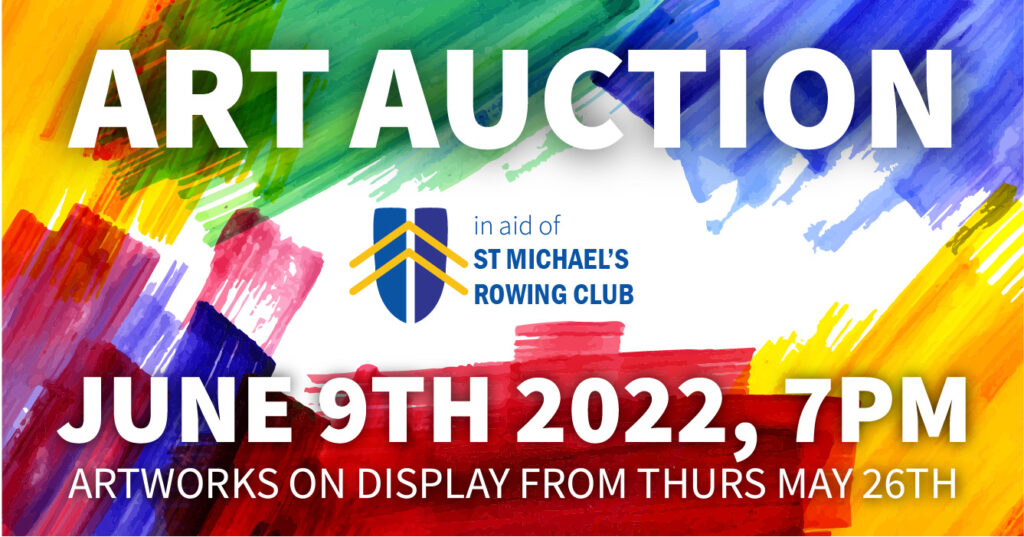 Our brand new website for our fundraising Art Auction has just launched where you can preview over 40 gorgeous artworks by some of Limericks leading amateur and professional artists, with many more still to be added. We also have a dedicated Insta account @smrc_art_auction so be sure to follow us there for all the latest news and sneak peaks.
St Michael's has started a very ambitious plan to replace our ageing racing boats during 2021-2023. Some of the boats are over 20 years old and while ideal for learner rowers, our top tier crews are at a disadvantage when competing at national and international regattas.
Rowing equipment is not cheap with an 'Eight' costing anywhere up to €30K. Captain Mike McDonagh and the committee have secured some funding from the Sports Capital Grant and the remaining costs are being raised via Fundraising. Our Art Auction is the main fundraiser for 2022.
We look forward to showcasing an eclectic mix of art and hope people will come along to see them in person as well as joining us for the auction.
The Auction takes place in The Belltable Gallery, O'Connell St, Limerick on June 9th at 7pm where the artworks will be on display in advance from May 26th through to June 9th.
Please note: Some pieces are only available on auction night but some pieces are available to buy in advance and this is clearly noted on the website!
This event would not be possible without the support and cooperation of so many people. We would especially like to thank Louise Donlon and her team and The Belltable for giving us such an amazing space to exhibit the artwork and to host the auction.
Also huge thanks to our main event sponsors – Bowe Dental (bowedentalclinic.ie) and The Commercial Bar (thecommercial.pub) without whom the event would not be possible to host. Thank you also to our digital media/design partners Pigtown Media (pigtownmedia.ie) and Red Dot Design (reddotdesign.ie). All photographs of the artworks are copyright Pigtown Media.
And most importantly thank you to each and every one of our amazing and talented artists who have very generously donated pieces to the auction.
We hope to see you on the night!