The St. Michael's Rowing Club (SMRC) Fundraising Lotto was relaunched on January 2nd, 2016. We have new monthly prizes of meals, vouchers, concert tickets etc. while retaining the valuable jackpot, which currently stands at €1,000 and is kindly sponsored by Bowe Dental Clinic.
The SMRC lotto is a vital part of our fundraising plans, and in particular for our new slipway project as 100% of the lotto proceeds are ring fenced for this urgent construction. Thanks to everyone who plays, and if you're not playing we'd ask you to please join in and tell your friends. Click here for new slip plans
Click here to play online or you can also play with cash or cheque by meeting Antoinette (Captain) or Tom (President) any Friday night between 5:30pm and 6:30pm.
Monthly Quick Pick –
Please check the news box below for up to date details…
If you would like to sponsor a prize and get some exposure for your business,
please email smrclotto@gmail.com.
Sponsorship news –
We're delighted to have new sponsors supporting the jackpot prize.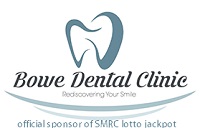 Bowe Dental Clinic have joined us for the jackpot which currently stands at €1,000 and we're extremely grateful to them.
More details on playing SMRC Lotto –
Enter your lines of numbers for up to a year in one go, you need never miss a draw again!
When playing online you will receive the Lotto results and club news updates by email after each draw has taken place.
To play the St Michael's Rowing Club (SMRC) Lotto, any four numbers are selected from 1 to 28. If anybody matches the four numbers selected on the night he or she wins/shares the Jackpot. We will also have monthly Lucky Dip prizes generously sponsored by local businesses and friends. Tickets cost €2.00 each.
We encourage all of our friends and supporters to play the St Michael's Rowing Club (SMRC) fundraising lottery. We hope that we can all work together to promote this lotto and help get back in touch with people from the club who may now be living all over Ireland and the world.
Your continued support is much appreciated and we wish you good luck in future draws.
Best of Luck,
St Michael's Rowing Club (SMRC), Limerick.
About Bowe Dental Clinic
Bowe Dental Clinic is owned and operated by Dr Robert Bowe.
We are a general dentists which will take care of your day to day dental needs such as check ups, fillings, and cleanings with our hygienists.
We also specialize in Dental Implants which are the most natural way of replacing missing teeth.
We are open from 8.30 to 5.30 Monday to Friday and we are conveniently located beside the Maldron Hotel in Q Retail Park Roxboro where there is ample free parking for all of our patients.
We offer free Dental Implant consultations for anyone curious to see what Dental Implants can do for you.
Call the clinic on 061 608186 or contact email us and we will be happy to help organise your next appointment.