SMRC Victory Dinner Dance
St. Michael's RC will celebrate our remarkable season with a Victory Dinner Dance on Saturday, October 22nd 2022 in The Strand Hotel at 7:30pm.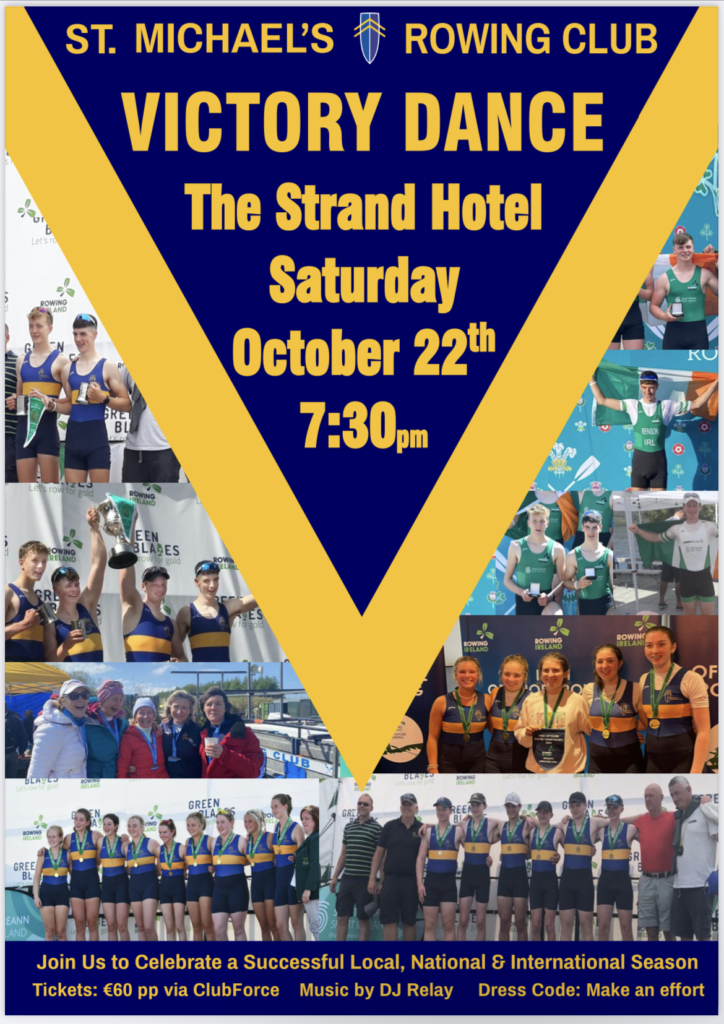 It's a chance for rowers, coaches, supporters, families & friends to catch up after the difficult times of the last few years of lockdown along with celebrating our remarkable success during the 2022 Season.
Speeches will be kept to a minimum, rowing awards will be presented, meal done early to start the festivities!
Please note that anyone over 30 attempting a dance off is not covered by the clubs insurance policies!
And.. we are throwing in a LIVE SPLIT THE POT draw where someone in the room will leave with 1/2 the winning Jackpot!
Join us to celebrate 2022 & get ready for bigger and better in 2023.
Tickets can be purchased via Clubforce – https://member.clubforce.com/tickets_m.asp?LL_ID=622
Dinner Dance Details
– Tickets €60.00 each
– 3 Course Dinner & tea/coffee (see menu for details). We're asking you to select meal preference so as to get approx numbers for the hotel. Changes of mind permitted 🙂
– Music by DJ Relay (of The Commercial Fame)
– Dress Code – Make an effort! Knock yourselves out if you have a tux.
– Min Age Restriction – Over 16's only. Crews must be accompanied by parents/guardians.
– Room Rates – contact the hotel directly.